CAMP at Kids' Work
Summer 2022
Fun Side by Side!
Learn more about our exceptional summer learning opportunities.
Session One: July 11 -29 | Session Two: August 1 -19
Full Day 8:00 - 4:30 | After Care 4:30 - 6:30
Open drop off/pick up between 7:30am to 6:30pm.
(Camp activities are in full swing between 9am to 4pm, so we encourage attendance during that timeframe!)
Summer Camp | 3 - 6 years | Serving Chicago, IL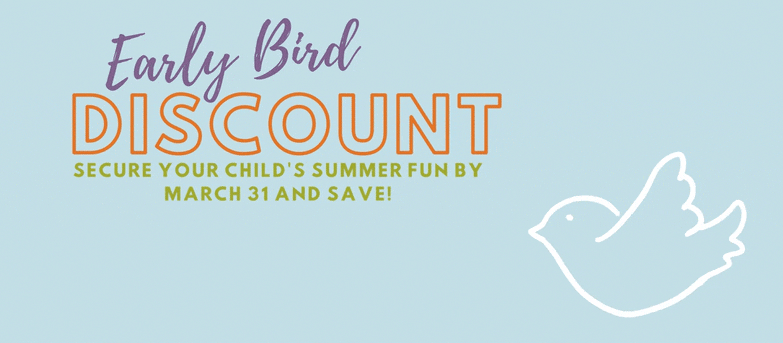 We are so excited to welcome campers to our 2022 progams! Registration is now open and we are offering Early Bird Pricing, so reach out for more information!
Special Classes and Outdoor Play
Camp at Kids' Work offers weekly 
music with Ms. Elisa of Wee Groove
, 
Yoga sessions with Buddah Belly Yoga.
  We also host special events on sight like cooking classes with
Paramount Events
, a Reptile Show, and more! Each week, we'll head out on a neighborhood field trip, to
Goldfish Swim School
or
Lil' Kickers
! In addition to these more structured learning opportunities, your camper will also enjoy fun outdoor activities including; water play, sports, and 
free play on our onsite secure playground!
Comprehensive Camp Programs Your Family Can Count On
Our summer camp program is an extension of our top rated and exceptionally reliable Kids' Work Chicago children's learning center.  Located  in Chicago's North Center neighborhood, our program is available for your convenience all summer without interruption! For families that need a full day of care, we also offer high quality full day options.
High Quality Interactions with Consistent and Qualified Staff
Summer learning can be fun and engaging when  coordinated by high quality camp staff.  During their time here at Kids' Work, your camper will be surrounded by a consistent group of creative, energetic, and loving educators!
Intimate Group Sizes for Ample One-on-One Time
Our smaller than typical group sizes provide your camper with plenty of individualized attention, support, and interaction! 
High Quality Organic Meals and Snacks
Your camper will enjoy freshly prepared meals and snacks each day from our catering company, Healthy Organic Kids. Our high quality meal plans expose campers to a variety of tastes and textures helping to them to develop a lifetime of healthy eating habits!
Explore Our Extraordinary
Summer Camp
Program Now!
Focus on Creativity and Individuality
Our program values each camper as an individual by celebrating all the interesting traits that make them unique.  In our program your camper will feel free to express themselves creatively through our many open ended art and music activities. 
Regular Staff to Parent Communication
We understand the importance of communicating openly with parents, so they feel informed and  connected to their camper's day. Summer Camp at Kids' Work provides parents with regular email updates as well as frequent photos and anecdotes!
Safety is our Number One Priority
We provide CPR and first aid training for all of our staff members to ensure the ultimate levels of safety. Each camp group is equipped with an emergency first aid kit, and our nurse consultant provides regular training on correct use and application of action plans, rescue inhalers, and EpiPens.
"Kids' Work brought light back to our son's face"
Kids' Work provides a warm, safe, and enriching environment that not only accepts but values the unique nature of each child. Kids' Work brought light back to our son's face after a difficult experience at another preschool. When I told the staff at Kids' Work that he still had accidents and wasn't completely potty-trained, fully expecting to be scolded as we were at our previous school, the response was, "of course he does, he's only three!" I knew right then it would be a wonderful fit not only for our son, but for us as parents.
"They share pics of my kid multiple times of the day"
The only place I've visited where I think they take better care of my kid than I could do on my own! They share pics of my kid multiple times of the day and provide a level of stimulation and social interaction that I simply could not do myself. She has already learned so much. I wish I could be there to learn some of the songs myself and splash in the sensory table. One of the best decisions we ever made for our child, and for us.
"The entire staff is truly invested in each child"
We started our daughter here when she was 3, and we were so incredibly happy with the experience. She attended part-time, but even though we weren't there but a couple days a week, we felt part of the Kid's Work family. The entire staff is truly invested in each child, and our daughter loved her friends a teachers. The projects and daily play immediately engaged her in and out of the classroom. Our daughter is now at our neighborhood school, but we started our son there. He is enjoying it just as much!
Explore Our Extraordinary
Summer Camp
Program Now!